Managed IT services in Santa Ana, and everywhere else, are usually a mix of responsibilities designed to meet a client's requirements.
Common elements include:
Compliance requirements
Onsite support
Help desk support
Backup and disaster recovery
Virtual CIO services
Planning for IT growth
Any combination of these services is usually referred to as managed IT services.
Why Do Businesses Need Managed IT Services in Santa Ana?
We do a lot of work with clients in Santa Ana.
Santa Ana is the county seat of Orange County. It's also a legal center. The U.S. federal court system and the county court system are both headquartered in Santa Ana. For that reason, a lot of law firms and other legal-adjacent companies are located there too.
There's also a lot of manufacturing in Santa Ana. From printing companies located in Santa Ana, to manufacturing, to law firms, or a legal transcription firms or companies that do language translation for the legal business, all of those companies have different compliance requirements.
We put together managed IT services that meet the needs of different types of clients. That's why the managed IT service packages that we provide are tailored to what the client needs.
How Should Companies Find Managed IT Services in Santa Ana?
Typically, a client reaches out to us and we schedule a 15- to 30-minute phone call to explore what they need. What are their goals? What are the immediate problems?
The next step from that is to meet them onsite and to perform an IT assessment. We do a deep dive into their existing IT and look at multiple different points. We check 37 different points and then come back with the results and findings and our recommendations.
Not a lot of IT managed service providers do that granular kind of assessment right off the bat. But it really allows us to see each business as a whole and figure out how we can support it. The best IT plans are tailored to what the client needs because there are so many different offerings out there.
Adapting to COVID with IT
Recently, because of COVID, a lot of people are working from home. Even a lot of IT companies are working from home. And a lot of people are reluctant to go out and meet with clients. We've met with multiple clients that have said that we were the only IT company willing to meet with them in recent months.
In our opinion, even with COVID, going out and actually meeting someone at the site is still necessary. We need to look at the client's site, see how they work, and try to understand their workflow. We need to see the IT equipment they have in place to provide an accurate assessment.
Onsite Visit for a Santa Ana Law Firm
We recently went to a law firm in Santa Ana, and we brought our own tools, we wore masks, and we were checked at the door. We offered to do the assessment remotely before we came in, but they said no. They actually wanted us to be there too.
It's always good to ask and keep that door open. We'll say we can do things virtually, but it would be better for us to actually be there. And we bring our own tools and we make sure that, especially with COVID and what's going on today, we respect the distancing rules when we're there. Also, it's pretty helpful that so much of what we do is on our tablets and our devices when we walk in.
Building Long Term Relationships
When you engage with the managed IT provider, you're in a long-term relationship. Even if it's not a long-term contract, IT is a long-term business relationship because we become partners in business.
It's really important to get to know the client and understand if we can work with them. And they need to understand if they can work with us and whether this ongoing business relationship will work.
For us, being a partner in business means knowing what your business needs in your area and even the specific neighborhood. These companies chose to be in Santa Ana, and we chose to be their partner, so we need to know Santa Ana. We need to know what it offers and what happens in that area. Is it prone to power outages or internet issues? Are there telecommunication issues that we know about in the area?
Those questions are part of our virtual CIO (vCIO) service, which is really what having an IT managed service partner is all about. In many cases, we can say that we already know the area because we're in Santa Ana with several other clients across several industries daily.
IT Support For Santa Ana Legal Businesses
In the legal business, a lot of depositions, trials, and meetings between clients and judges and other attorneys are all being done by video from their offices because of COVID. For that reason, many law firms are counting on their IT to work properly. Stable, high-speed internet connections are critical to doing business, especially in an area with a high concentration of legal work like Santa Ana.
With the client above, we actually offered them an off-site server because we saw issues occurring in the building. We saw issues occurring with their internet. We offered to solve the problem by putting in our own server in an area that we manage, protect, and maintain. A lot of managed service providers don't offer that.
That particular client was very, very concerned because they had unstable internet and their attorneys were working remotely. They had unstable power in their Santa Ana office and they couldn't get to their time slip server. If they couldn't get to their time slip server, they couldn't log their billable hours, which meant that they couldn't bill their clients and generate revenue.
We were able to solve that problem by putting that server into our data center where we have stable power and internet, which allowed them to have consistent, 24-hour access.
What do Managed IT Services in Santa Ana Cost?
The cost of IT services always comes down to what your business needs. It's not necessarily different from one city to the other.
There are cities in Orange County, like Santa Ana and Irvine, that have high concentrations of buildings and businesses. You may need to pay a premium because you're in a high rise building in downtown Santa Ana, for example, and your vendor may have to pay to park, or it may be difficult to get to your office. Those things are taken into account, but generally, the cost of IT services should really stem from what a given business needs.
And to really understand what your business in Santa Ana needs, you need that IT assessment. We come to your office and perform an in-depth assessment, and then we come back with our findings and recommendations. From there, we can provide a managed IT service plan that meets your business requirements.
You may have compliance requirements, for example, in the area of legal, or accounting, or medical, or manufacturing. They can be different for different businesses. It's very important that your IT provider understand your business, understand your workflow, and understand what your challenges are so that they can craft a plan that meets your needs.
Compliance Considerations
Compliance is one of those things that isn't talked about often, and it needs to be. Sometimes, when people are looking at costs and a managed IT service provider is more expensive, it's because they know about those compliance needs.
Generally, engaging with an IT company that can manage your compliance costs more because they have experienced and certified cybersecurity experts on staff.
When companies are looking at costs, they may not know about those compliance needs. It's good to ask the technicians or the managed service provider about compliance even if you don't think you need it. We've actually had to tell prospective clients that their industry has certain compliance requirements. That additional bit of education and information from the client can even come from the assessment.
Typically, you ask a client if there are any compliance requirements that they need to meet. If they're in manufacturing, for example, or they do business with the government, they generally know that they need to be NIST compliant. If they're in medical, they know they need to be HIPAA compliant. But most businesses fall under some type of compliance requirement or have it forced on them by their customers.
On that note, clients have come to us recently with questionnaires and requests for audits by their customers. Their customers are saying that in order to do business with them, you need to meet a higher level of compliance.
Compliance is always an important part of the conversation in working with a managed service provider. And it's important to work with one who understands what the compliance requirements for your specific business might be.
A Santa Ana IT Success Story
Santa Ana is home to one of our favorite clients. They make custom screen printed T-shirts and apparel. And they started with us probably 15 years ago.
They had one computer and one server that they ran their accounting on. Then they added a few computers in their art department. Their business started to grow. They acquired sophisticated, computerized screen printing equipment. And we continued to expand their office network.
Then they bought the building next door before moving into a series of buildings and renting several other suites in the area. The real challenge at that stage was internet access. They're in an area of Santa Ana that a lot of people call a 'telecommunications wasteland.' There's only one provider available and services are really limited.
It's always been a challenge for them to operate their business without access to high-speed internet. And the solution that we brought in when they moved to these other buildings was a point-to-point wireless solution. We chose that because there wasn't any fiber, cable modems, or anything like that available.
We get that challenge a lot in Santa Ana, especially in the warehouse areas. They will be pulling their hair out because they have an IT guy who just does not know that there are limitations in certain areas of Santa Ana. We know Santa Ana, we know these warehouses, and we know how to figure out solutions.
Specific IT Solutions for Orange County Businesses
We do business in many different parts of Orange County, including Santa Ana, Costa Mesa, and Irvine. We know about the solutions that are available.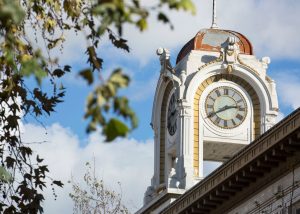 In the example above, we knew that a point-to-point wireless carrier with an antenna on their roof would work. It bounced a signal off of a building in downtown Santa Ana and provided them with high-speed internet access in a location where that wasn't available through traditional means.
And that's a good example of why an IT managed service provider in Santa Ana needs to know Santa Ana and the challenges involved. At CyberTrust, we know Santa Ana, we know Costa Mesa, we know what can happen and we can take care of whatever comes up. We put companies at ease so they can focus on doing what they do best, which is their business.
Interested in managed IT services in Santa Ana? Click here for a free assessment!