Providing IT services in Irvine can be very interesting.
We actually had a fire in Irvine a couple of weeks ago. A fire started in Santiago Canyon nearby. It jumped the freeway and it started burning into Irvine. We had to evacuate our offices.
At one point in the afternoon, around three o'clock, we looked at our front door and we could see the flames literally across the street, so we evacuated.
As an IT service business, we support our clients even when natural disasters strike. But in this case, we were field-testing our own disaster preparedness plan. We were able to evacuate the office within an hour. Because our systems are in the cloud, our employees were able to go home, log on, and continue taking phone calls. They were able to continue servicing our clients.
Disaster Recovery Plan for IT Services in Irvine
What that really brought to light, first and foremost, was the importance of a standing disaster recovery plan.
A lot of times when IT providers talk about a disaster recovery plan, they're talking about having backups or using backups for recovery. But there's more to it. Recovery requires looking at your entire business.
If something happens like what happened to us and many other Irvine businesses, what do you do? How do you evacuate? Where do you go? What do you take? What are the things that you have to take with you?
And in the event that your building does catch fire, or burn down, or if there's an earthquake, how do you continue to run your business?
Applying Recovery Plans in Real-Time
We have disaster recovery solutions in place that back up our clients' data to a local server on an hourly basis. That data can be transferred to the cloud so we can bring that client back online to work remotely if they lose their building in a fire like the one we just escaped in Irvine.
In the case of the Santiago Canyon fire, everything we've ever said about being proactive with our clients came to pass for us. And it made us recognize, once again, how putting these items in place actually provides that value that you should look for in a managed IT service provider.
Cost of IT Services in Irvine
Business owners often ask us how they can assess whether their IT service provider is too expensive. Especially in Irvine, because there are many businesses in Irvine.
When you're looking for IT services, in Irvine or anywhere else, the important thing to consider isn't just cost. It's value. Because "expensive" is relative. It should be based more on what your business needs and the budget you have.
If the managed service provider has the right experience, they'll be able to look at your industry and your business to create a proactive and cost-effective plan that covers all areas of your business. And that includes those potentially disastrous moments like we've had in California.
IT Prices in Los Angeles and Orange County
A member of our team recently moved from Los Angeles to Orange County. She did some research on the cost of IT prices in Los Angeles, Orange County, and Irvine specifically. And she found that the prices were higher in Irvine.
It's interesting to do this research as someone who isn't familiar with Orange County. A lot of clients that aren't originally from Orange County or California will do a basic search and look at different companies within a certain radius. They typically notice that a range of prices, but our research found that the price range was about 20% higher in Irvine.
That's just our estimate from our own searches, but when we looked even deeper, the numbers still seemed high. It's probably because there are so many businesses in Irvine. For first-time visitors, it can feel like "the city of Orange County." There's a city kind of feeling when you're in Irvine, even though there's so much more space than LA. Irvine feels like the business and technological center of Orange County, which is great, but it's also expensive.
Price Ranges for Southern California IT Providers
For IT directors searching for IT service providers, the further out the search, the more fluctuation they'll see in the price. But a lot of the companies with lower prices might not be able to reach your office, especially if you have multiple offices. Lots of companies couldn't send a tech to LA, for example, if they needed to. CyberTrust IT, in contrast, is a company that can do that.
We were looking at these numbers, but then we looked at the things that these IT companies offered. We looked at what was available for the business. What did they do? What did they not do? What were the limitations? Did they do backup disaster recovery? Did they do cloud support, service support? Did they have a place where we can actually build something offsite if needed? Or did they know somebody who did?
These are all questions that informed the costs we were looking at. We know to look for them. But when we talk to people who aren't from around here, they see those numbers and get quite nervous.
The Business Center of Orange County
Irvine is really the business center of Orange County. We have an office located in Irvine on Technology Center Drive. And we host our clients and house a lot of our equipment at our data center, which is also in Irvine.
Irvine is a cross-point for two different electrical grids and multiple major internet service providers. So that's why you find a lot of co-location facilities and high-tech companies in Irvine.
The location does come with a premium because of the convenience, but we can also serve these clients in Irvine, Costa Mesa, Huntington Beach, Santa Ana, and Anaheim. We have an office in Anaheim, and our reach includes all of the cities in Orange County.
For a lot of companies, that kind of knowledge is really important. Again, Irvine has different electrical grids, different internet providers, and different telecommunication services. There's so much happening that if you're looking at an IT service provider in Irvine, they'd better know their stuff. They'd better know exactly how to support you. If they don't have that knowledge and there's a power outage or your internet service provider goes down, you won't have a backup plan, or a plan B, because that IT provider wasn't prepared.
Irvine business owners should definitely make sure that the IT providers they consider have a working knowledge of the neighborhood.
IT Services in Irvine for Property Management Companies
One of our clients in Irvine is a property management company. This company has been with us for 15 or 16 years. They own the buildings that they manage, including several high-profile buildings in Irvine, Anaheim, Costa Mesa, and San Diego.
We've worked with them to interconnect multiple buildings so that they can manage, for instance, the parking systems, the alarm systems, and the camera systems. They can monitor and manage multiple buildings from their headquarters in Irvine.
We've also worked with many of their clients because they have people moving in and out of those buildings who need IT services as well. The relationship with this company has been very good, and it's allowed us to work with their clients in their buildings in Anaheim, Costa Mesa, and Irvine.
We also brought on another property management company in part because we've had that existing client for such a long period of time. We know that we can support that type of industry.
Expanded IT Requirements for Property Management
When people think of property management companies, you don't really think that they would need a managed service provider. But most of them use automated or line-of-business applications like Yardi to manage and collect rent. The way they manage properties now is very, very dependent on computers. And for liability reasons they are also very dependent on their video cameras, monitoring systems, and automatic building control systems.
Finally, the parking garage door controllers, locks, and building security rely on IT as well. Those systems are very sophisticated these days. They're all integrated, which is why large property management companies require significant IT management.
Given all of the hardware and tools that property management companies need for their business, it's almost mandatory to have a managed service provider. They need someone on the backend to handle the systems and the applications they need.
That support is also important when they expand, and we want to be able to provide that. We want them to own and manage more locations and more buildings so that they can expand their business. An IT partner has to be able to grow with them.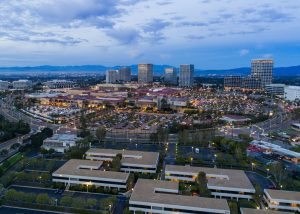 That property management company is one of our biggest successes. For 15 years, this business has been able to rely on CyberTrust IT. They expanded and acquired more buildings and hardware that they needed, but they always had CyberTrust to handle the backend. We made sure that we could get to their locations. We were able to go to Costa Mesa, Irvine, Anaheim, and all these different areas to support them. And that capability is pretty hard to find.
If you'd like to find out more about IT services in Irvine or request a free IT assessment, please click here.