Managed IT has changed a lot during COVID-19. When the rules came down for people to work from home, companies had to act very quickly to shift their workforce.
Clients who had been working with us already had the tools in place. Our tools for managing their network remotely made it possible to reconfigure quickly so that employees could use those tools to connect to their office computers.
People on voice over IP could also take their telephones home. It was a lot of work, but we were able to shift very quickly so our clients could work from home.
Early Adjustments to COVID Managed IT
In the early phases of the pandemic, there was an interesting split. Some brick-and-mortar businesses panicked because they had never considered the possibility of their people not being in an office anymore.
On the other side was eCommerce and businesses where people had already been working remotely, and contractors who were working remotely. It was an interesting split, and our industry had to handle both sides.
The first issue was connecting all these people who have to work from home now. But then you have cybersecurity to consider because employees are using home networks. And they're doing the things that you would do from the office -- consult with a client, or go in and help them -- and now they may not be able to because of those parameters.
What helped most in that situation is the virtual CIO relationship we had with our customers. We understood their business already, so we weren't just managing their technology. That relationship and grasp of their business process made it easy to shift to working remotely.
Cybersecurity & Productivity
The security aspect of the shift was also very interesting. In many cases, employees were using their home computers to connect to their office computers. But if that home computer is not properly protected, how it connects to the protected corporate network is something that needs to be addressed.
Another concern from business owners was knowing if employees were really working. They were checking logs of users logging on, trying to track whether productivity was up or down, but it was difficult to measure. Multiple companies requested third-party solutions to monitor when their employees were working.
The Virtual CIO Experience
At the beginning of the pandemic, CyberTrust clients had an easier transition because they were already comfortable with a virtual CIO.
Part of the virtual CIO service includes contingency plans -- not specifically for a pandemic, but in the event of emergencies. If there was a power outage, for example, or an evacuation. Here in California, we have fires.
As a managed service provider, we put disaster recovery plans in place as a component of working with us. We're always thinking of step A, step B, step C, to make sure that there's a solution if employees can't be in the office. And because those were already in place, we were able to act on them.
Many clients stay with us because we're a proactive part of their team. They know we'll provide the solutions they need, so they're not as frantic during times like this. We were able to put a lot of our clients' minds at ease.
COVID Managed IT Safety Precautions
Prudent safety precautions have become crucial now that COVID managed IT services have been going on for a long time.
It's really important for the staff and the field technicians, myself included, to make sure that every person on our team is safe.
Internal Guidelines
Within the office, we set social distancing parameters. We have dividers for every table to make sure that everybody's safe during the times that they're in the office. When we go out, we're exposing ourselves so much. So the idea is not only being safe with the clients, but we want our team to know, that they're safe in-house as well.
We've set up guidelines, including handwashing and having antibacterial hand sanitizer available all the time. If there are any signs or someone doesn't feel well, we take that seriously. That's step one, making sure that in our house we're safe.
On-Site Visit Parameters
Once we step out those doors, it's a combination of having our own guidelines and accommodating clients as much as possible. So we ask ahead of time if the client is taking any specific guidelines or precautions.
It's really important to understand what the clients' protocols are. Then we can tell our staff when they go out if a client is doing temperature checks, or asks for long sleeves, masks, gloves, etc.
We wear masks and gloves because we may need to touch keyboards in the field. And we always have people carry antibacterial, because even though we're wearing gloves, we don't want to contribute to cross-contamination. We clean the gloves, wear all the protective gear, and then take it a step further by communicating with the team and the client to make everyone feel safe.
New Client Visits
Now, we're visiting new clients and existing clients. People are going back to their offices and we need to see what's what. When we're talking to a new client or new prospect, however, it's really important to understand what their protocol is and adhere to that protocol. We want to respect their protocol to make them feel comfortable.
We've gone to see quite a few new clients. When we don't know their parameters, we bring our own tools. We can bring in our own devices so that we don't touch theirs. We can do network assessments and evaluations from our mobile devices. And we can do more in-depth analysis as we build out what they need and identify the best solutions.
In one case, we went as far as bringing our own keyboard and mouse to plug into the servers without physically touching the user's tools. They were so grateful that we took that extra step so that we wouldn't contribute to cross-contamination.
Cybersecurity for Remote Workers
Cybersecurity for remote employees has also been a big topic for COVID managed IT services.
When employees shifted to work-from-home they were generally using their home computers. In some cases, we had clients take their office computers home. Taking an office computer from a protected environment to someone's house, where it's not as protected, raises concerns. Viruses or something malicious could happen to that computer and travel into the corporate network.
It's really important to really think through how you're managing that shift. We've recommended providing computers for employees to use from home that are isolated from the devices that their kids and other family members are using. If it's absolutely necessary for employees to use home computers, we recommend putting some management agents on it to make sure that the computer is protected.
Protecting the Corporate Environment
In some cases, we've even put additional firewalls and hardware into those people's homes to make sure that they can connect to the corporate environment safely.
That's what makes being a COVID managed IT service provider so unique. We have to provide the solutions really quickly.
Another benefit of a managed firewall through a managed service provider is that you can deploy the tools and provide the software easily. From there, we can manage the firewall and provide connections that keep security tight.
Educating the End Users
We can put all these tools and precautions in place to protect the data and the computer, but if we don't educate the end-users, we have a problem. Because if the end-user clicks on something, opens something, or installs something, they can infect their computer and the entire network.
The end-user is the kind of the weakest point, and hackers know that. They're phishing for credentials. They're trying to get users to click on something that provides remote access to the computer.
That's why we have protocols in place and we train the end-users, either in person or with an automated training. We also do phish testing to make sure that the end-users are aware of what can happen.
The testing is really important. And we're really big on education because that without it, companies are vulnerable. we usually talk about it during onboarding too.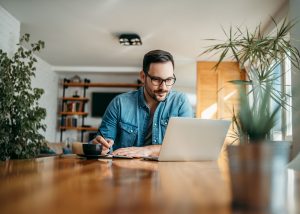 Our goal as a managed IT service team and as their virtual CIO is to educate them. As much as we can offer, whether that's PDFs, automated systems, or a two-hour on-site training.
We want to provide solutions from the very beginning. Education is an important part of protecting our clients, and that wasn't new for COVID. Companies that were already our clients were already trained when COVID hit. For new clients, we put them through protocols to train them as well.