What is Voice Over Internet Protocol (VoIP)?
VoIP is a telephone system that uses the internet instead of traditional telephone lines.
Using a voice over IP system frees your business from the constraints of an on-premise telephone system. In other words, your employees don't have to be at their desks in the office to answer the phone. And given the way things have changed with COVID, this has been increasingly important since people are working from home.
A Voice over IP telephone system gives your business the flexibility to send your employees home with your office phone number, to redirect their calls to a cell phone, to create a call center, and create a ring group to redirect inbound calls as necessary.
Other popular features include voicemail to email and voicemail to text transcription, and the ability to transfer a call to a cell phone if the desk phone is not available.
Why Choose VoIP?
Business owners ask why we recommend VoIP over a phone system like Grasshopper, which distributes calls to landlines and cell phones.
Lots of smaller companies have never had a phone system. They've always used their cell phones. And if a company has 10 or more people, they may have had an on-premise system or people in an office and it doesn't come up.
The most common problem with relying on personal cell phones is that when sales reps call customers who get the customer's cell phone number, the customers call them back directly and you can't track those interactions. When that happens, you can't monitor calls or productivity.
VoIP really allows you to operate as if you're in the office when you're not in the office. One reason is all of the really great features that are included in a VoIP system, like point of presence.
Point of Presence and Other Popular Features
With point of presence, you can see where all your team members are. You can see if they're logged in, if they're available, and if they're on the phone, all through a window on your computer. Call reporting and call queues are also useful. You can pick up the phone in your home office and just press the button for Mike, and the phone rings in Mike's house across the country.
Other features include voicemail to text, text to email, and call routing and call forwarding features.
VoIP integrates with applications like Salesforce and other CRMs. You can bring up a customer record and just press a button and call out directly. Or if the customer calls you, it pops a window and it tells you who's calling and brings their record up. Now, when you pick up the phone, you have the customer's record in front of you already.
VoIP apps also work on your cell phone so that you can be out and about. And you can still answer the calls that come to your office and your voice over IP telephone on your cell phone. And you can place calls out using the app on your cell phone, so they go out as your company number. You're not exposing your private cell phone number to clients.
There's a multitude of features available with voice over IP that create a tremendous amount of flexibility and cost savings for businesses. The cost savings of using VoIP over a traditional on-premise business telephone system are tremendous.
VoIP and COVID-19
When COVID-19 hit, many of our clients had to send their employees home. And for organizations that were already on VoIP systems, that was as simple as taking employees' desk phones home and plugging them in.
They were able to work immediately and calls were flowing to their phone. They could call out with the company number going out. And they could accept inbound calls that came into the company's main number.
Further, they could communicate with employees in exactly the same way from their home office as they could from the company office. That was a game-changer for a lot of clients because they had to transition to the work-from-home model immediately.
Clients who weren't on VoIP, however, struggled more with the transition. Calls were still coming into their on-premise phone system, but nobody was there to answer the phones. They had to forward those calls to personal cell phones.
Let's say you're on the phone with a client. Another call gets forwarded to your cell phone, but it rings busy. Now that call is lost. And if you call a client back from your cell phone, the client has your cell phone number now as opposed to the company number.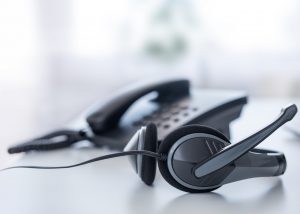 Again, there's no tracking or reporting on productivity, call routing, how calls are being handled, or if calls are being dropped. That can impact your customer service. A lot of businesses had those issues. They didn't occur, however, for companies that were already on VoIP or moved to VoIP very quickly.
With voice over IP, you have the flexibility to do business from anywhere as usual.
Are you looking for modern IT solutions to maximize your (remote) workforce's productivity? Click here to contact CyberTrust IT for a free consultation and technology assessment!