Businesses looking for managed IT services in Anaheim vary, just like any other area in Orange County.
There's so much happening in Anaheim. There are manufacturing and commercial businesses that have been there for a long time. And because the area is so vast, there are also medical centers and lots of other organizations.
We have a lot of experience in supporting local businesses with managed IT services in Anaheim, including several current clients.
What Businesses Need Managed IT Services in Anaheim?
Like any other city in Orange County, there are a lot of businesses in Anaheim. There are financial organizations, CPAs, and medical facilities. But Anaheim is also an area with a lot of manufacturing businesses, and manufacturing can have unique IT requirements.
Further, many of the businesses in Anaheim are doing business with the government. They may be related to aerospace or subcontractors for the aerospace industry. And those businesses have cybersecurity requirements in NIST.
Also, a lot of medical companies in Anaheim have HIPAA requirements, and a lot of legal and financial groups have other cybersecurity requirements.
Local Expertise for Local Anaheim Businesses
We have a lot of experience working in Anaheim, and many local clients that we've been working for for more than 20 years. We're familiar with the area, and we're in the area — our office in Anaheim is right by Angel Stadium.
Even more importantly, we understand the infrastructure that exists in Anaheim. Anaheim is one of the oldest cities in Orange County. There are areas of Anaheim that have access to fiber, and some are fixed wireless. Not every type of internet and infrastructure service is available in Anaheim, in contrast to a newer town like Irvine. So it's important to work with a provider that understands your area what's available.
With that in mind, one thing that these businesses have in common today is that they all need some kind of managed services and IT support.
As technology and the internet become more ingrained in our society, and all of the alternative connection methods that have become necessary because of COVID, Anaheim businesses need to have that support and to know where any potential limitations are.
if you need to work remotely, for example, and you need to access certain areas of your business, it's really important to communicate that to your IT provider. You need to have that relationship, that partnership, with your managed service provider.
A company like CyberTrust can support your business needs at any time. And that includes normal business hours, extreme situations like an environmental event, or something like the shifts required by COVID.
Managed IT Services in Anaheim Keep Businesses Up and Running
Managed IT is extremely important in keeping Anaheim businesses up and running.
Your managed IT provider is more than a vendor. Your managed IT provider is a partner. They're a trusted advisor. They're working on multiple levels to maintain your existing infrastructure, take care of your end-users, and deal with day-to-day problems. And they're looking forward to plan ahead and position your company for growth.
More recently, with COVID, they help you pivot and reposition your company to do business in a changing, challenging environment.
We can't emphasize enough that it's important to look for managed IT services in Anaheim that will be a partner and a trusted advisor for you in the future, not just a vendor.
Another reason that your IT provider is like a partner is that there's no downtime. It's really important to find a managed service provider or an IT provider that doesn't have off-hours.
Support That Doesn't Stop at 6 PM
CyberTrust supports our clients 24 hours a day, seven days a week, because we know that businesses don't stop at 6:00 PM. And that's especially true in Anaheim, where the manufacturing, commercial, and medical businesses just don't stop.
You don't want the limitation of an IT provider that only has office hours from nine to six. We are available for after-hours calls and our technical support is always available for emergencies.
We support businesses and can be by your side at any hour of the day to keep your business up and running. That may be onsite at your location or providing support for remote work, which is just as important.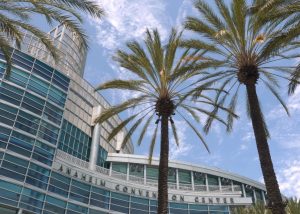 Helping Anaheim Businesses Adapt to Remote Work
With all of the organizations in Anaheim and what's transpired in the past year, remote work has come up a lot.
Helping our clients pivot and continue to work when COVID happened was extremely important. And now that things have evolved, many companies have gotten more used to remote work.
Having people offsite is changing things. Companies may be thinking about going 100% remote and letting go of their buildings, for example, to release themselves from that liability and overhead.
Clients in that situation are often worried about the on-site servers that they rely on, but we help with the transition to a cloud-based solution that includes a remote desktop.
Remote desktop moves your on-premise servers to the cloud and provides a remote desktop for your users to log into. They can log into their work desktop from anywhere in the world and use it just like they were working at their desk.
We've been able to help several clients with that pivot. When they realized remote work was working so well for them, they decided to let go of their physical building and move completely to the cloud.
And we use the newest technologies and remote desktops to support your users so they can deliver the best possible service to your customers.
Looking for managed IT services in Anaheim? Click here to contact us and schedule your free IT assessment.