The cloud desktop, much like cloud applications, is an accessible desktop that isn't in your computer's hard drive.
What is a Cloud Desktop?
Traditionally, you'd have to sit down in front of your one physical computer to have all of your applications and data. With a cloud-hosted desktop, you log into that desktop from anywhere and I have the same experience and access to all the same things.
Essentially, a cloud desktop makes your desktop available wherever you are.
Cloud-hosted desktops can be set up in a number of ways. Depending on your service provider or IT team, they'll most likely provide access through an application or a browser interface.
When your desktop is available through the browser, you would go to the URL and sign in, just like you would your bank or some other application. From there, you would get a virtual desktop or a desktop with the information you need from a data center, readily available to you.
Cloud Desktops' Security Value
In this time of COVID, companies with employees working from home have found this to be a very effective solution. Employees who are used to seeing their work desktop can extend it to their home computer this way.
This is a great tool. A lot of companies are moving toward virtual desktops these days. Not only do they have that accessibility, but they also provide for more security.
For example, if anything happens to your building, or if you have a lot of brick-and-mortar locations and there is a break-in or fire and something happens to your computer, you don't have to worry about your data disappearing. It really provides peace of mind on a lot of levels.
The access, especially during COVID, has made it very, very easy for employees to work and access all of their data in one place without compromising security.
It provides a much more secure experience as well because everything contained in the desktop is running on a cloud computer. On an employees' home computer, that data could, for instance, get corrupted or infected by a virus.
File Storage Benefits
Because there are so many options for storing files today, like Dropbox or OneDrive, it's really difficult to manage that security. It's hard to really make sure that the data isn't being compromised or moved somewhere else.
Having it in one place, in one accessible and manageable area, is very convenient for both the user and the business owner. As a company, your data is stored in one secure and central place. No need for Dropbox, no need for OneDrive, no need for multiple platforms.
COVID-Related Benefits of Cloud Desktops
Multiple clients have moved to a hosted desktop as a result of COVID. One client that expanded to about a half-dozen offices, for example, had to close their offices during the COVID lockdowns. We had to sanitize and make sure everything was okay before they could open back up.
During that period, they needed to have access to their data and systems. They asked us to set them up to access the cloud desktop. And because we had a set of plans in place already, we were able to turn it on and get them on the hosted desktop in a very short amount of time while they were closed.
Also, when they opened back up they didn't have to worry about the data being somewhere else. They just went right back to work in the same space, in the same environment, and it was as if they were in the office the entire time.
It sounds simple, but having a managed service provider is what makes it easy. By handling the hard stuff for the client, it's like we give them the keys to a car. They can just hop in and go.
As a managed service provider, our goal is to be there and support our clients. If they do need something during an emergency, be it COVID or something else, we can provide that solution because of our experience.
Choosing a Cloud Desktop Provider
Clients can get confused trying to figure out what cloud desktop provider to choose. Google, Microsoft Azure, and a plethora of other companies are out there and they all have very different price points.
A managed service provider can be useful to help clients determine what they need and how to get it. Having this information readily available is important.
A lot of clients are moving their local servers, or onsite hardware, to the cloud. And it's really up to the managed service provider to identify what applications they're using, how their environment is set up, and what tools will provide the same experience in the cloud.
In our experience, Microsoft Azure provides a secure platform to transition people who are on Windows servers to a virtual desktop experience. That transition doesn't cause any disruption to the business.
Windows & Microsoft's Cloud Solution
Windows Virtual Desktop, a new product based on Microsoft Azure, is a far superior experience than terminal servers and past interfaces. It's a more familiar user experience because it's based on Windows 10. The user feels like they're sitting in front of their desktop.
Applying Cloud Desktop Solutions
Recently, a client that has been in business and family-managed for multiple generations moved to work-from-home when COVID hit. They're a very conservative company with multiple locations and nearly 100 employees.
Working from home worked so well for them that they came back a few weeks later and asked to move to a fully cloud-hosted desktop. They wanted to switch in 30 days because they weren't renewing their lease.
Thirty days was a little tight, but we said we could do it in 60, and we did. We moved the entire company's operations to Microsoft Azure on Windows Virtual Desktop in exactly 60 days.
They went live in the cloud the day that they turned the lights off in the building. There was a lot of work on the back-end to make sure that that client had a seamless transition and a great experience, and they did.
Learning to Live with The Cloud
More brick-and-mortar businesses are looking at these cloud-hosted desktops because of how much money they can save now. They don't have to rent a space, and with our help, they can provide security and know that their data is available on that hosted desktop. And they're loving it!
Also, they don't have to buy equipment on a regular basis. They're paying on a per user basis. One of the things that can be confusing, however, is the pricing. The pricing is all over the place.
Cloud Desktop Pricing
If you price cloud-hosted service providers, you can pay anywhere from $25 to $500 a user.
That said, in our experience, pricing really depends on what you need. You'll need to do an in-depth analysis to find out what your company needs. What applications are you running? What are the compliance requirements?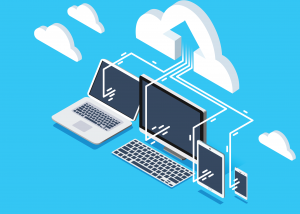 You also need a managed service provider with experience in those technologies. A managed IT service provider can put a package together, price it out for you, and help you find the right solution and make the right decision.
A managed service provider's value includes an in-depth assessment to see which virtual desktops will work will be efficient for a company's needs. That knowledge is essential because the virtual desktop world is vast.