What's unique about IT support in Huntington Beach?
Huntington Beach is a coastal city in Orange County. It's known for its beaches and surf culture, but it also has a long history in the aerospace industry.
There's a large Boeing plant there now. McDonnell Douglas was also there for a number of years. And as a result of that, a lot of small and local businesses in Huntington Beach provide parts, pieces, and services to the aerospace industry.
Why Do Huntington Beach Businesses Need Specialized IT?
Companies that provide parts or equipment for the military and aerospace are most likely subject to the National Institute of Standards (NIST) 800-171 cybersecurity requirement. And there are some pretty stringent cybersecurity requirements under NIST that you need to adhere to.
Huntington Beach is unique in that there are many more small businesses with IT support that needs to be structured around NIST than in other Orange County cities.
Another benefit of working with a managed service provider (MSP) who is local to Huntington Beach is access to your business. If you need onsite services, or a server goes down, or if there's an internet outage, it's important for your IT service provider to get to you quickly and resolve that problem.
Huntington Beach Infrastructure
It's also helpful for your IT provider to understand the infrastructure that may be available in your area. Huntington Beach is an older city in Orange County, and the infrastructure there is not as up-to-date as it is in newer cities like Irvine.
From an internet services standpoint, there are some areas of Huntington Beach that can only get fixed wireless as an internet connection. Other areas are on fiber, some are on Cox, some are on Comcast, and others are on Spectrum.
It's really important for your IT service providers to understand what services are available. They should be able to guide you in the right direction based on what's available in your area. When a business is looking for an IT provider, they really should be looking for a partner, not a vendor.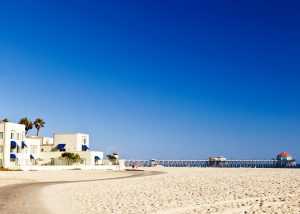 IT Support in Huntington Beach Should be a Partnership
We approach our client relationships from the standpoint of a long-term partnership. We're partnering with your company to help your business succeed. In that partnership, we provide:
Virtual CIO Services
Help Desk
On Site Support
Cybersecurity Services
Each of these keeps you within the compliances that you're required to maintain. But the relationship is crucial.
Our relationships with our clients are long and deep and they really see us as a trusted partner. We're their IT department. We function as an extension of that company.
Interested in IT support in Huntington Beach? Click here for a free assessment from CyberTrust IT today!