What types of businesses need IT support in Irvine?
It's a common question. And the answer is that any Irvine business with digital tools, compliance requirements, or cybersecurity concerns needs modern IT support.
And we don't just say that because those are our specialties. Or because we look forward to assisting companies that have compliance requirements like NIST or HIPAA. Those are businesses that are in the legal, financial, and medical fields, as well as businesses that are working with the government.
Cybersecurity Requirements for Irvine Organizations
Generally, just about every business these days has a responsibility to meet certain cybersecurity requirements.
There's a cybersecurity requirement called SIS 20, for example, that applies to every business in California. In essence, regardless of your industry, you have a responsibility to meet certain cybersecurity requirements. We can help you understand those and navigate them.
Recently, more clients are coming to us because their clients, or their vendors, have come to them and asked for audits or certifications. They need to prove that their business has certain cybersecurity controls in place so that they can do business with a given client.
This is fairly new, but we can help businesses work through that as well.
There are standard regulations for the financial, medical, and legal industries, as well as those doing business with the government, as we mentioned above. Manufacturing companies and CPA firms are other examples. And one of our jobs is educating these companies on what regulations apply to them.
If there are regulations to follow, it's really important to have an IT company that is up to par. You need a partner who has the knowledge to know what those compliance requirements are.
Also, they need to know when those rules are changing.
Changing Compliance Rules
There are a lot of new compliance standards cropping up just about every year. The government is putting a lot of requirements out there. So your IT company, or a managed service company like CyberTrust, needs to stay on top of that.
We're constantly educating ourselves and our technicians to make sure that we have all the information on compliance needs in those industries.
IT Support Models
The way that we provide support also comes up often with Irvine businesses. Traditionally, you'd establish an IT support plan either with an independent contractor or a managed service company.
That's fine for supporting your day-to-day needs, but your larger needs are changing, especially from a cybersecurity standpoint. Essentially, those traditional models don't always fit anymore.
Several clients have joined us, for example, after working with a traditional MSP or an outsourced IT service provider. And those teams and companies have not been able to keep pace with the changes in cybersecurity requirements. More importantly, they have put their clients at risk by not keeping up-to-date with compliance requirements.
In short, the traditional IT support model isn't reliable anymore. You really have to look for a company that understands your cybersecurity needs and your compliance requirements. They're the ones that can keep you safe and help you reach another level.
If you're outside of the managed IT services world, you might not be aware of how much IT support has changed. Traditional IT support, for example, didn't have to do as much as we do now. In the past, you'd only see an in-house or third-party IT guy when you needed a printer or copier fixed. They came in with their tools, sorted out the problem, and then left.
Why is IT Support in Irvine Changing?
Businesses 20 years ago weren't as integrated with technology as we are today. Modern companies require lots of technical components just to get up and running now. And it's essential to have a partner from the managed IT services world who can be your guide and make sure that your business is covered in every aspect.
Remember, just 10 or 15 years ago, your work phone was a landline. We had paper trails and everything was printed out. Now everything is digitized. We have email, eFax, and so many other communications over the internet.
Further, because of COVID, remote work is vital now. In Irvine, the big office buildings and locations with lots of people in offices have transitioned to working remotely. And a managed IT service that knows security can be an essential partner in providing that remote support for your business.
This is another reason that the traditional IT model doesn't work anymore. We're evolving into a world in which you need a business partner with cybersecurity expertise just to keep your workforce productive.
Adapting IT Support in Irvine to Remote Work
It's no secret that things have shifted tremendously in the last eight or nine months with COVID.
Numerous clients have come to us and said that their previous IT provider couldn't help with the shift to remote work. They feel like they've been let down. They need solutions to keep their companies running that their IT provider isn't capable of offering.
Helping companies pivot to the remote work model is something we're quite adept at. We have experience in everything from tracking employee activity and productivity to setting up voiceover IPs to connect your team to the company phone system.
We can also set up remote desktops so that the company applications can be delivered in any remote workspace. So we have a lot of experience in this. We've helped a lot of clients shift their business to support remote work.
Client Case Study: Providing Real IT Support in Irvine
We recently helped a client in Irvine that serves as a great example.
This Irvine company had a couple of computers in use for sharing files internally. They had physical server stacks lined up in a room at their Irvine office. And the client needed to access that data, but their IT support provider wasn't able to create a secure connection from the client's office to their house.
CyberTrust helps businesses create those connections. We have the experience to empower business owners and employees to work at home without worrying about cybersecurity threats or issues that may occur.
Further, this client actually asked us to migrate their server from those physical office stacks to the cloud. And those solutions are also becoming more and more relevant in Irvine. People are looking for cloud solutions and a business partner like CyberTrust that can make those changes happen.
Finding IT Support in Irvine
Irvine is an active business area for Orange County and Southern California. And it can be overwhelming to look for an IT provider that meets your needs. Most people start with a Google search for 'IT support near me' or 'IT services near me.'
If you're an Irvine business, we recommend talking to IT providers within a 10-mile radius. And the reason for that is that you want people who are physically close by. It's easier to ask for references, find out what kind of background they have, learn about their specialties, and verify how long their businesses been established. A lot of managed IT service providers haven't been around long and don't have a track record of success.
In contrast, companies that been around for 10 or 15 years like CyberTrust have so much knowledge on hand. And that experience in this field is important because it shows adaptability to new and changing IT solutions. Going through those evolutions and staying relevant as an IT provider is an important signifier.
Technician Certifications
In addition to references, location, and specialties, your IT technicians' certifications might be a factor. It's important to know what level of support that you'll get from a given company.
At CyberTrust, all of our technicians are certified. We have level-three technicians with 50-plus years of combined knowledge. Our CEO has comprehensive knowledge and expertise that ranges back a long time.
Another certification of credibility for CyberTrust is that our clients don't go away. When you look at testimonials and references for other businesses, knowing that the turnover is not high is a crucial indicator. That partnership has longevity because of the trust built over the course of the relationship. And that's so important when you are talking about the technology in your business.
In other words, when you're looking for an IT provider, you're looking for a business partner. You aren't looking for a vendor. And if you are looking for a vendor, that mindset might not serve you well long-term.
Companies today need a partner that can help you move your business forward. The right partner will have the foresight and the experience to anticipate things that have not happened yet, including things the business may not even be aware of.
Experience is also important in this partnership because most businesses need someone who can sit at the table and speak for technology at the executive level. When you have relationships with clients for more than 15 years as CyberTrust does, that's invaluable. And those relationships are ongoing because we've helped them grow profitably and sustainably.
Experienced IT support in Irvine doesn't just include executive-level support and cutting-edge technology. It also includes a working knowledge of the area itself.
Leveraging Irvine's Telecommunications Hub for Your Business
Irvine is one of several telecommunications hubs in Southern California. Downtown Los Angeles has one and Irvine has another. And that means there are multiple internet and telecommunications services interconnecting in the area.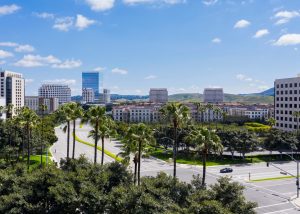 Practically, that means doing business in Irvine can give you an edge. You can choose from multiple vendors for internet access and for telecommunications. That said, some aren't available in all areas either. So it helps to have that working knowledge of the area. And at CyberTrust, we always know what the best solution is based on where a business is located.
In conclusion, and geographical knowledge notwithstanding, quality IT support in Irvine starts with building the relationship. CyberTrust clients don't see us as a vendor but as a business partner and a trusted advisor. And your Irvine business deserves that level of relationship as well.
Please click here for a free IT assessment of your Irvine business.