There are a lot of myths and misinformation around IT managed service providers who offer data security, which is also known as a cybersecurity MSP. We'll examine three of those myths below.
Myth #1: Cybersecurity MSP is the same as Computer Repair
Despite what some people may think, a cybersecurity MSP and computer repair shops are not the same things. Computer repair shops focus on repairing computers. As such, they concern themselves with services such as:
Walk-in customer service
Consumer-level equipment maintenance
Limited business hardware support
A Cybersecurity Managed Service Provider, in contrast, offers a group of business-specific services. In other words, a cybersecurity MSP is not a computer repair shop, but an IT partner.
Think of them as your IT department. And these dedicated IT support systems can bring many services to your business. They have experts in different specialties throughout their teams. In fact, a Managed Service Provider can act as an outsourced IT department for you.
Myth #2: Off-Site IT Solutions Put Your Company's Data at Risk
If you've heard that storing your data off-site or in the cloud is dangerous for your organization, the fact is that the opposite is true.
An effective cybersecurity MSP has specific policies in place that include:
Frequent changing of passwords required
Enforced password complexity
Regular on-site data backups
Frequent cloud-based data backups
With these redundancies in place, if your local data gets corrupted, we can bring your business back up in the cloud quickly. In other words, protecting your data and protecting your business is our business.
Myth #3: Cybersecurity MSP is Only Good For Backups
While some MSPs only provide backup solutions to clients, we offer many more services. We provide the backup solution as part of a larger solution to our clients. This may consist of:
Help desk management
Interaction with end-users
Virtual CIO services
So backup is only one piece of the puzzle. It's important to cover the business from many aspects. And to look at the entire picture, not only backing up the data.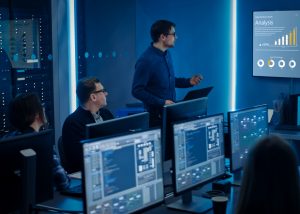 Thank you for joining us to break down these Cybersecurity MSP myths. If you'd like to work with CyberTrust IT, please click here for your free assessment.