Virtual CIO services are often misunderstood. It's important to dispel some of the most common myths related to virtual CIO services. We've picked three.
Myth Number 1: Virtual CIO Services Don't Understand Their Clients' Business
Virtual CIO services are actually very client-focused. Further, specific business sectors may have particular concerns. They may have different processes and might be in different market verticals. But the common denominator is technology.
In fact, about 80 to 85 percent of the technology is constant across many business types. Only the remaining 15 to 20 percent relates to your specific business. So an effective virtual CIO has to understand your business process to make informed recommendations. This involves a multi-step onboarding process, including:
Questionnaires about your business
Interviews with key players in your organization
Onsite assessment of your technology
A complete review of your website
We try to understand your marketplace and your customers. And we try to understand aspects of your business that relate back to the technology. We have worked with many businesses, including:
Legal
Medical
Distribution
Professional Services
While the technology is common across many companies, their business methods are different. And the compliance requirements are also different. So the virtual CIO needs to understand the business process. And also needs to leverage knowledge and experience with companies across many verticals.
Another responsibility of the virtual CIO is researching compliance standards, as many companies are not aware of the standards that apply to their business.
Myth Number 2: Businesses will Lose Control if They Work with a Virtual CIO
Companies are always in control of their businesses. In fact, the virtual CIO is a supporting partner for each business. Their role is to assist with the technology and to manage the technology day-to-day as it relates to end-users. The philosophy of a good virtual CIO is that it's your equipment, you own it, and we provide you with the passwords to it.
Effective virtual CIOs won't ever make you feel like you're locked out of your own system or like a hostage. The relationship between the virtual CIO and the business should be very open.
Also, the communication should be transparent with the client. These factors are important to ease client concerns about loss of control or access.
Myth Number 3: Virtual CIO Services Will Impact My Company's Agility
If you think a virtual CIO will lock you into outdated services or technology, think again. In fact, the opposite is usually true.
Internal IT tends to become focused on the process, and agility in business means having the ability to change, adapt, and pivot when necessary.
It may be difficult for internal IT people to offer agile solutions, so working with a virtual CIO can actually increase your business's agility.
Final Thoughts/Impressions on Virtual CIO Services
In conclusion, an important element of our success with clients is the formation of tight partnerships.
An effective CIO assigns a technical specialist to manage each client's account. Our account managers and clients communicate regularly.
Also, there should be ongoing discussions about issues, including:
Open tickets
What's happening in the IT environment now
Recent events that business owners should be aware of
What needs to happen in the future
Finally, an effective virtual CIO suggests technology solutions and ensures constant communication with your account manager to optimize your business.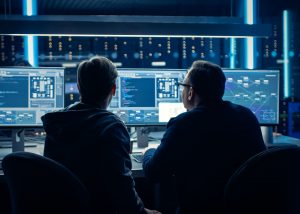 These three myths about virtual CIO services are just a sample of what you should know about managed IT for your business.
If you'd like more information, please click here to contact us or schedule a free assessment.