There are a lot of myths and misinformation around IT for small businesses. The first myth about small business IT support is that it is not beneficial.
Actually, nothing could be further from the truth.
Myth Number 1: Small Business IT Support is Not Beneficial
Small businesses can gain many advantages by working with a Managed Service Provider.
Most small businesses focus on growth. The owners are growing as entrepreneurs and they're focused on getting new customers and driving the company forward. And a lot of times, this makes IT an afterthought.
Small business owners may have to deal with technology that doesn't work quite right because they don't know how to fix it or have time to deal with it properly. But small business IT support can give you a full business assessment that details a roadmap for your company's growth.
While you may not need all the changes immediately, you will have a roadmap that you can grow into and will help you grow faster. So, the myth that small businesses don't derive benefits using IT support has no basis in truth.
Growth is the Key for Small Business IT Support
Some businesses aren't interested in rapid growth, and they may think that a Managed Service Provider isn't for them.
Since we've been doing this for almost 20 years, we've worked with many small businesses that started with just one or two people in a bedroom or garage. Now they have 50 or 75 employees, and they leverage technology to make the company look even bigger. They can compete with larger competitors in the marketplace and they can move the business faster.
Myth Number 2: Small Business IT Support is a One-Size-Fits-All Solution
While we bring some proven processes to our clients, we tailor each IT solution to meet that client's needs.
With small business IT support, 85% of the technology is the same across businesses. But the real secret sauce is that 15%, which is what makes your business is different. This may consist of:
Business applications
Business operations
Compliance requirements
That's why we start with an in-depth assessment of your business -- to understand those aspects. With this information, we can tailor our solution to meet the needs of your business and avoid forcing you into a cookie-cutter program that isn't a good fit.
Myth Number 3: Only Enterprise-Sized Businesses Need IT Support
This myth has to do with cost. A lot of businesses think they can't afford a Managed Service Provider, or that MSPs are only for larger businesses.
Actually, that couldn't further from the truth either.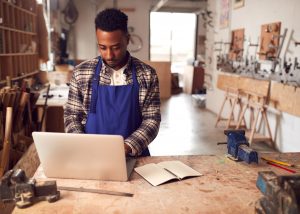 We scale our services based on the size of your business. We can bring enterprise solutions to help propel your small business forward. But our solutions are scalable and tailored to meet your business requirements.
Are you interested in small business IT support or consulting with CyberTrust? Click here to contact us for more information or a free assessment.