Let's talk about the search phrase "IT services near me," and what it can mean for your business.
Oddly enough, regardless of where they are located, the prices for managed services are pretty even throughout the US. Industry colleagues in New York City, the Midwest, and Southern California price managed IT services about the same across the board.
Effective IT services are always more focused on what's right for a given business than the cost. To provide the right solution for your business, it's important for an IT service provider to meet with you, assess your resources and your needs, and understand the challenges your business is facing.
Generic IT Service Searches Aren't the Answer
If you're running a business, finding the right partner requires more than pulling out your laptop and searching for "IT services near me." Too many people just type that in and expect a magical answer for their business. But IT support services should be customized and tailored based on what your business needs.
For example, the restaurant industry and the manufacturing industry use completely different software, databases, and so on. But they might both start with that search, "IT services near me" or "IT support near me." It's a generic term so the results are very random. Google goes in a lot of different directions.
It's like trying to find a bank branch versus opening a new account. You could search for a Wells Fargo nearby, for example, if you already have an account there. But if you were trying to open a new account, or get a home loan, you wouldn't search for "banks near me" and immediately choose the first option.
Also, a lot of the search results are solo shops. IT guys who say 'I can do it,' but invoice you line item by line item.
In contrast, we bundle services that are customized for each business. We make packages that are tailored for what each company needs.
Compliance Requirements
Compliance requirements for each business are a factor too. Individual IT providers and one-person shops don't always understand cybersecurity compliance requirements for each business.
Some businesses think they don't have any of these requirements. In the State of California, however, there are more and more all the time. There are several documents that you need to comply with just because you're a California business.
'How do I Find IT Services Near Me?'
We hear versions of this question a lot too -- "how do I find an IT service provider near me?"
Even professional IT directors do what everybody else does. They open a computer and search for 'IT support near me.'
Some, however, aren't aware of this tip -- you can add a plus sign next to a name or a word to better filter your results.
For example, some IT directors need assistance with cybersecurity. Adding "+cybersecurity," or "+managed," produces a more useful list of IT services that specialize in those areas.
If your company has a cybersecurity issue and you search for "+cybersecurity," you can probably start with the top three Google results. From there you can look at certifications, partners, and past clients. Their websites can also lead to reviews and cross-referencing clients.
And then you can find out what software they're known for, what they like to use, and so on. With that understanding, you can ask more informed questions.
Know What You Need First
Cybersecurity and managed services might be important to your business, but if you're looking for IT support services, the first issues to resolve are any weak points in your company.
Where are the problems, and how can you resolve them? Use that as a word filter when you look for that service.
Searching 'Near Me'
Users who search with Google often use the phrase 'near me'. Clients who find an IT service provider that way, however, may not know how far 'near me' extends. Especially since it can be different for each business.
For example, CyberTrust is located in Orange County, California. We have clients throughout Southern California, usually within an hour's drive of our offices.
One reason for choosing a local partner is the need for onsite inspections, updates, and troubleshooting. Part of building relationships with clients is being near enough to service them easily.
Many clients, however, have offices in Southern California as well as other parts of the country that require service. CyberTrust partners with a national IT association so that we can have trustworthy 'feet on the street' in other locations. We've successfully serviced a client with offices in Georgia, Pennsylvania, New York, Ohio, and Washington this way.
Why Are 'IT Services Near Me' Important?
Working with an IT company near you is important, especially early in the relationship. Building that client/provider relationship into a partnership is easier when you're in close proximity.
CyberTrust has expanded the ability to maintain that close contact with virtual CIO services, which have become crucial in 2020.
IT Services in Southern California (and Beyond)
For example, we have a client in Huntington Beach, California, which is near our main office. We've built that relationship by staying by their side and supporting their growth. And as they expanded and opened more offices, we had the flexibility to expand with them.
If your business grows, the right IT partner will scale up with you. CyberTrust, for example, can go to places like Texas, New York, and Florida, or support new local offices. In this case, our client expanded to Irvine and opened a Costa Mesa location too.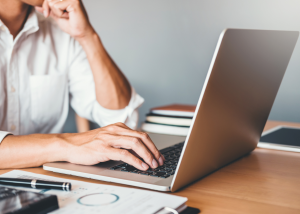 In conclusion, 'IT services near me' is a good place to start. But another important question is 'can you keep up with us when we grow?' And lots of IT companies near you may not be able to.
Lots of businesses start searching for IT support because they feel like they have outgrown their existing partner. And that might be due to new physical locations or the need for an expanded skill set that they can't get in-house or from the local fix-it technician.