Coronavirus has affected everyone. Not just on a business level, but on a personal level. For Coronavirus managed IT, we're considering both our teams' everyday protocols and our clients' needs too.
We have daily conversations to make sure that our clients are okay. And it's not just business. We're asking if they're okay personally.
Challenges of Coronavirus Managed IT
The challenges started with keeping the team in a good headspace. Sometimes we're distracted. And reinforcing empathy, coming together, and staying strong as a team has helped us overcome that challenge.
Also, being strong for clients, including CEOs or C-level executives who need help. It's okay to ask if someone is okay. We do that because we have that empathy, and we know that everyone is going through it. That's a challenge, but it's a challenge we've been able to overcome.
We think every day about how we can support our clients. We provide a boutique experience, but we know that during this difficult time we need to be supportive on those levels too.
On-Site Protocols & Workarounds
Other challenges have included scheduling the teams' on-site visits to help at client locations. It might be during a time that they planned to deep clean their office. Maybe they have people working from home remotely, so we can't have a face-to-face interaction to troubleshoot an issue.
But we've found workarounds. We've been able to provide alternatives and we've had Zoom calls. We've been able to solve problems as the challenges have come. And I think that's what makes our team really effective.
We've also been very flexible. And we've maintained communication with our clients to get the work done.
We used to send our technicians to client sites on regular schedules that included weekly customer service appointments. Those are limited now because some clients don't want us in their office unless we need to be. When we do go to their offices, our employees bring hand sanitizer, masks, and gloves. We have to be aware of the clients' protocols as well. We're very conscious of that, and we reach out to clients for their protocols and adhere to them on site.
Our toolset is nimble enough to adapt to these circumstances. We can change our software and position things in flexible ways that other companies can't match.
Proactive Preparation
We decided to be proactive before Coronavirus. We were preparing for other situations, like the fires in California. For another client, we had to move an office from one location to another. Being nimble and proactive has made us effective and helpful during this time.
The nature of our business is that 95% of our work, once a client is set up and onboarded, is done remotely. That has allowed us to continue business as usual to a certain extent. And we can extend those tools to our clients.
When people left their offices to work from home, we used our tools so they could remotely access their computers and continue to work as well.
Precautions & Protections for Coronavirus Managed IT
One client specifically asked, "What kind of precautions can we take when we know that equipment is being moved?" This particular client goes to different offices, so they know that stuff is constantly moving and cross-contamination is a challenge.
One important point is that the most heavily used, and the least noticed, parts of a computer are keyboards and mice. And while you don't want to spray down a keyboard, you can keep a bottle of isopropyl alcohol with disposable napkins or a paper towel. You can use that to wipe down those keyboards, depending on how often someone sits there or if other people are moving around.
Cleaning Schedule
A cleaning schedule is another good idea to track when things are wiped down and how often you need to wipe them down. Another great thing to do is also to wipe down the mouse, the monitor, and the keyboard if you can. We have to be cognizant of people sneezing who aren't wearing masks as well.
But some of the questions that this client had were interesting because they were moving around, putting things in their car, and taking them out. And cross-contamination is a concern.
Mobile Devices
When you're using mobile devices like phones or tablets, one thing that can help is keeping them in covered cases. That way, when you're moving, you only have one item to clean versus the phone itself or the tablet itself.
Cleaning a case can be more effective and safer than putting liquid on a device. Covering your devices or putting devices in a bag while you're moving around can help with cross-contamination.
For end-users that are moving from office to office and using different keyboards, mice, and other devices, it's a good idea to have a pack of alcohol disinfectant wipes with you. When you go to a new computer, you can do a quick wipe-down of the keyboard surface, or the mouse, just before you use it. That's a personally responsible step to take.
Gloves
Further, if you want to wear gloves, that can add extra protection too. Just make sure that you're cleaning the gloves with a wipe or alcohol as well.
In that scenario, even though your hands are protected, if you're touching multiple things with the same gloves, you aren't protecting others. But if you clean the gloves when you're going from place to place you won't have to worry about that cross-contamination.
New Cybersecurity Concerns for Coronavirus Managed IT
Cybersecurity today is totally different than it was pre-Coronavirus.
People are working from home and using home computers. Multiple family members are sharing those computers. The kids are doing homework on them and you're using the computer to work. Your significant other may be using the computer to work as well. And your home environment is not as protected as the corporate environment.
Now there's another cross-contamination risk unrelated to Coronavirus. By logging on to the corporate environment from your home computer, you can expose the corporate network to computer viruses. So it's extremely important to understand and control that environment.
Also, cybercriminals and bad actors are taking advantage of distracted people. People who are working in different environments, on different computers, and shared computers. They're sending out more spoofed emails and phishing emails that are designed to fool you into giving away the password and credentials to your email.
They know you're logging onto your corporate email account from your home computer, so it's extremely important to be aware of what you're doing, who's using that computer, and what you're logging into. You also need to look at the links you click on to make sure they're legitimate.
Unknowns of Shared Home Computers
Also, shared computers can lead to other unknowns. For example, a kid could bring home a flash drive that infects the computer, which then infects the corporate computer as well.
We understand that some of our clients and employees are trying to work from home with kids screaming in the background, spouses doing Zoom calls in the other room, the dog barking, and a thousand other things. You're supposed to be answering emails or finishing a task. And when you open emails in this environment, how are you supposed to recognize that they're spoofed, or not from a particular client? It's hard. You're distracted. There's a lot going on. There's noise everywhere.
That noise, in a sense, is what the hackers are looking for. They're looking for moments when you least expect it. Moments when your daughter wants to do homework with you, and you just press "okay" in an email and walk away. And after you do that homework, when you come back, you realize that it wasn't a real email and you've opened the door to a possible threat.
Those are the unknowns that we think about because people are working from home now. And we've had both instances. We've had people work from their personal computers. Then we have people pick up their work computers and bring them home.
Secured Computers, Secured Networks
Even if employees are on corporate computers you have to consider the security of the network. For example, USB ports that are exposed. Maybe that daughter wants to watch YouTube and clicks on a popup. There are so many variables. And we constantly think about that as their virtual CIO to ensure that we can help in these situations.
Cybersecurity for coronavirus managed IT needs to be thought through. You know, we've had discussions with our clients about taking corporate computers home. That's one solution, taking the corporate computer home, and securing their home network or creating a secure connection to the corporate network.
In some cases, we've had people who access their work computer remotely from their personal computers. We've discussed this with the client too, and the client decided to buy laptops or computers to use from home. They're using company-owned computers, and those computers have our cybersecurity and management tools on them so that they can maintain a secure environment.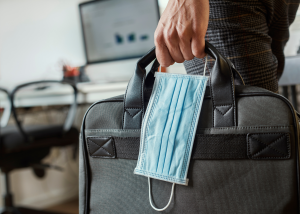 Virtual CIO for Coronavirus Managed IT
That experience and flexibility to find solutions is what makes a virtual CIO so important. We can present options and paths forward, and explain the unknowns and the variables ahead of time. That helps clients feel comfortable while staying within the managed service system.
Coronavirus has affected all of us. CyberTrust can help you with tools and software for your business, but also want to make sure that you and your business are okay. Let us know how we can support you.